Seminars at the Auberge des Voyajouers: made to measure that is truly adapted to your needs
This unique hotel generates a serene atmosphere, auspicious to team participation. Here, seminar days are balanced between work and relaxation with specified services that accompany the animations and reunions. Depending on your project, they can include catering, coffee breaks, game, visits, hikes, storytelling walks, etc. The meeting room at the Auberge des VoyaJoueurs can welcome up to 50 people. In the eventuality that your group is larger, we put at your disposal a large room (200-person capacity- 150 m away from the Auberge des VoyaJoueurs).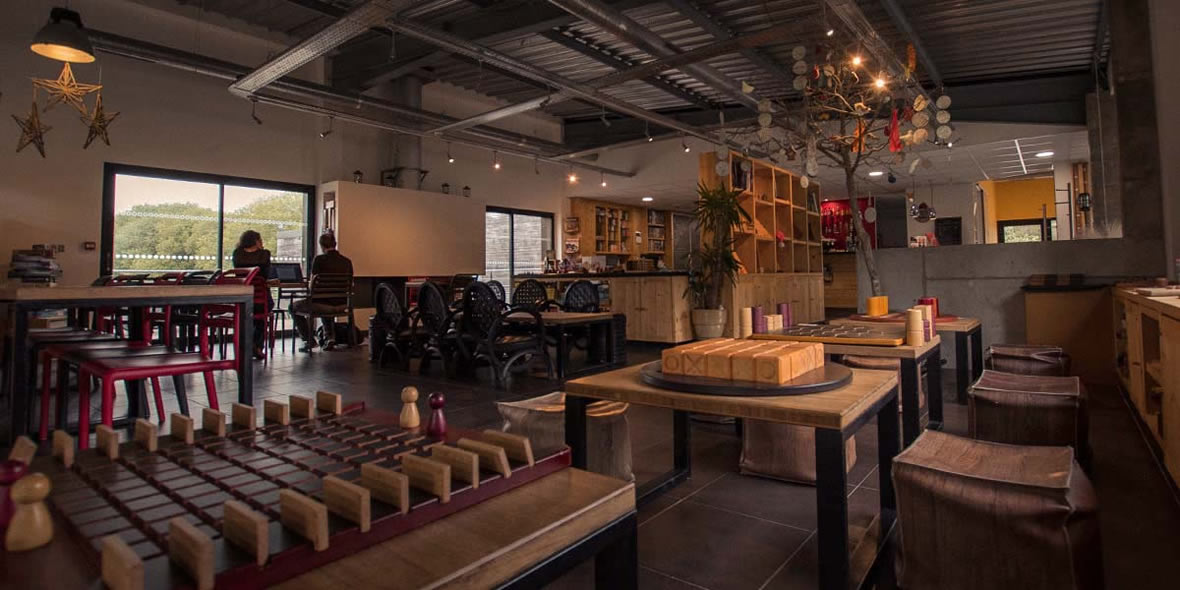 During the seminar: a ludic break.
Work day or residential seminar
Situated between Vannes and Rennes, this atypical hotel allows a natural mix of ludic breaks and work sessions. The organisation of the seminars and the choice of services are always made to measure. Since 2009, strong from our experience, we have thought of everything to give you the best services during your work, incentive or team-building days. Don't hesitate to contact us to talk to us about your project.
After your day of seminars finished off with some crazy games, nothing is more restful than spending a good night in your cosy bed.
At the Auberge des VoyaJoueurs, seminar rhymes with fresh air: woken up by bird song, start your day with a morning walk before resuming the "serious stuff". Your work stay therefore reveals itself to be a true change of scenery in the heart of one of Britany's 9 natural reserves.

Our game rooms transform themselves into conference rooms.
Tailor-made animations
The animations are led by one or more animator depending on the size of your group. Thanks to them, team spirt rapidly sets in. The program is thought out depending on your needs and the composition of your group. It can therefore mix multiple games, be organized around challenges or tournaments. In the manner of a puzzle, more various modules can be associated.
The primary themes that we have developed are creativity, communication, cooperation, open mindedness and connection to others.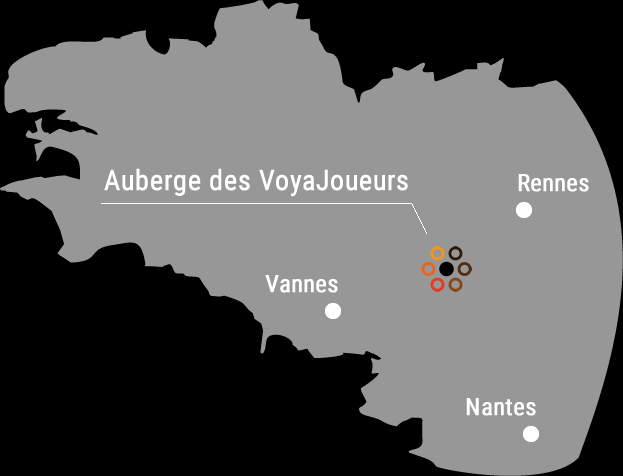 45 minutes from Vannes
45 minutes from Rennes
Accommodation capacity: 34 people
Capacité des salles de réunion :
–  At the Auberge des VoyaJoueurs: 50 people
–  Up to 200 people in the room 150 meters from the Auberge des VoyaJoueurs
Equipment:
Video-projector
Wi-Fi
Public-address equipment
Paperboards


Seminars at the Auberge des VoyaJoueurs: numerous companies have trusted us.